This NFL season has been one of the more entertaining in recent memory. We've had the coaching situation in Oakland, the TO situation in Dallas, blown calls, punters get called out by their coaches and a cellar dweller resurrect their season by resurrecting the Wildcat formation. This week was just another chapter in the
bizarre
.
–Following their win last night, Vikings' head coach
Brad

Childress

called out punter Chris

Kluwe
for Reggie Bush's two punt returns for touchdowns.
Childress
said in the post game press conference that those kicks were suppose to go out of bounds, and that he would, if needed, find someone else to handle the kicking duties. Some in Minnesota feel as though
Childress
is not right for the job, and that he could lose the locker room if he calls out players to the media in order to save face. We don't know if he told
Kluwe
to kick the ball out of bounds, but it's interesting that the stability of a team once thought to be among the elites of the NFC could hinge on what a punter was told to do.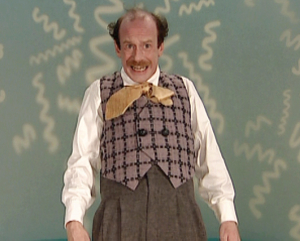 Don't worry Brad, even if your team doesn't respect you, the kids who watch Sesame Street still love you.
–Terrell Owens has been known to say some dumb things, and Sunday was no different. Owens caught two passes for 67 yards and a touchdown in Dallas' 31-22 win over the Bengals, and attributed his performance to a higher power when he rattled off this gem,
"God used me today for his glory"
. What the hell? Is anyone else sick and tired of hearing how, with all the problems in the world, that God is concerned about an over-paid athlete making a crucial catch in the red zone? Are the Cowboys now God's team? This is not to tread on religious beliefs, just beliefs that are insulting to others who are truly suffering and could use divine intervention. Cheer up Texas, Hurricane Ike was a hell of thing, but at least TO and the Boys are back on track.
And the Lord said on the Sabbath, I will catch many a TD Pass.

–This will shock all the Patriot fans out there.
Deion

Branch, the man the Pats gave up for a first round pick, is out indefinitely with a bruised heel
. Branch has missed 10 games in less than two and a half years in Seattle, putting him in the lead for world's most fragile receiver. Remember all of those New England who pissed and moaned that management was willing to pay a guy like Moss but not a guy like Branch who could ha
ve
helped the team in 2006 against Indy? Here is a stat for you: Randy Moss TD catches in 2007–23;
Deion
Branch career TD catches–22. Not to mention we got Brandon
Meriweather
out of the deal. We now know that drafting a PAC-10 QB will yield greater returns than acquiring a receiver from New England.......and if anyone has seen this man, please call the number listed below.
(Editor's Note:867-5309)
–Meanwhile,
Giants

wideout

Plaxico

Burress

stated that he was fine with his suspension
. Really? The suspension resulted after
Burress
missed a team meeting two weeks ago and could not be reached by team personnel. The reasons as to why
Burress
missed the meeting are still unclear, but this is not the first time
Burress
has missed a team meeting and said, "Coach said I was suspended because I needed to be more responsible. I was being responsible, I just put my child first."
Burress
would not elaborate on this or whether there were any problems between he and his wife. (On two separate occasions police have responded to the
Burress
home for domestic issues.) While this is not to accuse anyone, particularly
Burress
, of any wrong doing, it seems odd that
Burress
would both be okay with the suspension and insinuate that the suspension was not warranted. While airing the family's dirty laundry is not something you would expect, had the Giants wrongfully suspended him, you would think that someone as vocal as
Burress
would have no problems saying as much.
–
Lions' head coach Rod

Marinelli
was adamant that he would not resign his post in Detroit during his post game press conference. The Lions, who sit at the bottom of the NFC North at 0-4, recently dismissed GM Matt
Millen
(FINALLY) and it would appear that ownership wants to right the ship. The
Marinelli
statements could taken in one of two ways. Either he feels that his job is in jeopardy, a house-cleaning could be on the horizon and he wants to remind ownership that he did not draft Mike Williams, or he thinks that with
Millen
gone they have some pieces in place (remember, this was a team that was 6-2 at one point last season) to become a serious contender next year. Immediately after writing this, I will go with the former. The Lions are a mess, and the only head coaching job
Marinelli
could get at this point would be the head JV position at Windham.
–Finally, did anyone notice that 49 yard field goal in Sunday's win over the
Niners
by Stephen
Gostkowski
? Is there another game from this calender year we could think of where a 49 yard field goal try would have been nice? Maybe so I
wouldn
't have nightmares of this.....
Hey wow, Ellis Hobbs getting burned for a touchdown.

You only get to see that every Sunday.