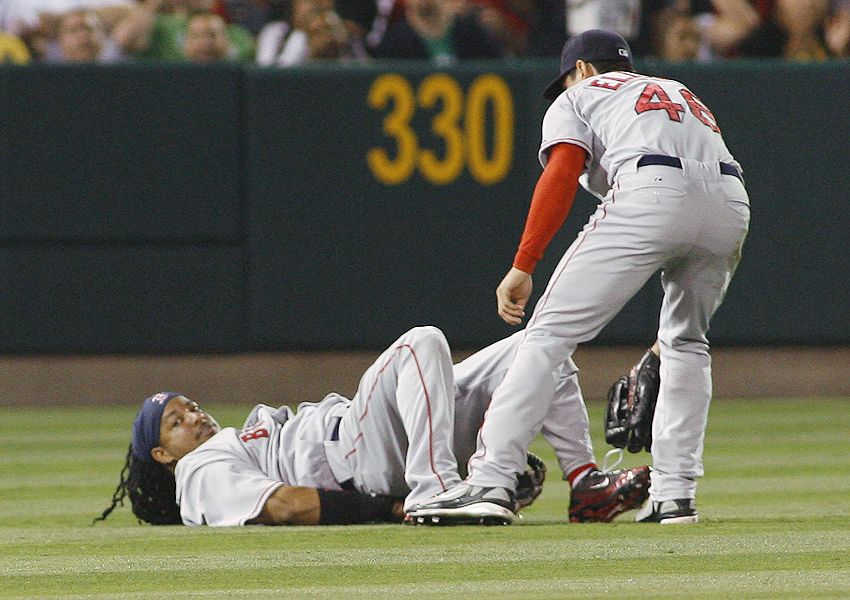 Oh wait, where is Scotty's head, it's up here somewhere
This off-season has witnessed Scott Boras get at least one of his clients a monster deal when he got Mark Teixeira the third biggest contract in MLB history at 8 years, $180 million when he inked with the Yanks. And while he is normally known as the superagent who gets his clients paid in the off-season (Barry Zito, JD Drew, Andruw Jones, etc.), this off-season has seen his rigid ways backfire.
First, there is Jason Varitek.
Varitek recently signed
a two year deal that will pay $5 million this year (half of what he made from 2005-2008) with a player option of $3 million or a team option of $5 million for next year. Many people felt that Boras and Varitek vastly overrated his value on the market. First he rejected arbitration thinking that someone would forfeit a top pick to sign him given he was a Type A Free Agent. No one did and Boston was not willing to over pay a player who is in obvious decline--.220 batting average and the 4th worst OPS of the 23 catcher with enough AB to qualify--and Varitek had to settle for far less money than what he had planned on getting.
Now comes Manny Ramirez, the goose that was suppose to lay Boras another golden egg. Some believe that
Boras was the reason behind Manny's antics
in an attempt (one that succeeded by the way) to get his client out of Boston, get the remaining club option years on his then-current deal voided so that Boras could land Manny (and himself) a hefty paycheck. From the beginning Boras has emphatically stated that he wants to get the 36 year-old slugger a 4 year deal worth in the neighborhood of $100 million, and that he would not listen to any offer that was shorter than 4 years. Though the Dodgers wanted him back, they were not willing to pay Ramirez over $20 million a year until he was 40--though they did make some offers.
First there was the 2 year, $45 million offer in November, which was turned down. Boras was reported to have said he expected "serious offers" from LA once Manny hit the open market. He hit the open market, and the offers never came. Then the Yankees went on a
spending spree
, investing in contracts totaling over $400 million, despite a sagging economy, but never really making overatures towards Manny. The Mets seemed like viable suitors,
but as of two weeks ago stated they were focusing their money on pitching
. The
Nats
, who were willing to spend big money for Teixeira, were reportedly not interested in Manny as of 5 weeks ago, meanwhile, no one else really showed much interest in acquiring the murcurial and talented slugger.
Then two days ago the Dodgers offered Ramirez a
one-year, $25 million deal
...which was rejected. Within a day of that proposed offer and the quick rebuke, Boras tried make the claim that the market is fine--despite players such as Pettitte, Varitek and Sheets struggled or continue to struggle to find work--and, according to Yahoo.com Sports writer
Tim Brown
, sent a warning to the Dodgers;
"What I do know, you better watch out when you're playing chicken."
But here's the interesting thing; the Dodgers are not the ones playing chicken. Several sources, including ESPN.com's
Buster Olney
, have the Dodgers continuing talks with the likes of Adam Dunn. Dunn, who finished 2008 with Arizona, is 7 years younger than Ramirez and will probably only cost a team somewhere in the neighborhood of $15 million/per to sign. Also, while he may not have the same numbers Manny has, he is entering his prime and there is no guarantee that Manny will show up as consitently as he did while in LA last year once he gets his contract.
So, with only the Dodgers putting money on the table as of yet, and with other LF on the market, it would appear that Manny needs the Dodgers more than the Dodgers need Manny, and perhaps in the interest of his client Boras should start to see that. Well, unless of course he is hoping the Yankees will come knocking and add yet another corner outfielder to their roster.