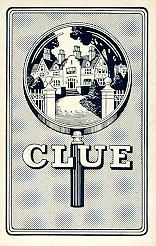 This is the sort of thing Murray Chass hates about bloggers (
or as he calls them
" young bloggers who know it all", which I assume is different from old columnists who know it all and are now writing a web site named after themselves). If Clue released a "Who Shot Up With Roids" edition, it could star every player who was on a roster in 2003. Of course instead of "In the dining room with a candle stick" it could be "in the bathroom with Stanizol". Without further ado, here is my list of the 103, feel free to make your own.
-LEGAL DISCLAIMER-
We will break this up into teams and go from there. Once again, I must state THIS IS NOT A LEAKED REPORT, THIS IS SPECULATION ONLY!!!!! Maybe if more people start doing this the other 103 names will be released, because until then ANYONE who played in 2003 could have tested positive.
I chose my names based on the Mitchell Report, the stats from the 2003 season, future suspensions for PED's, anger management issues, and looked at future seasons and injuries to see if these players seemed to break down after the 2003 season or if these players seemed to peak in 2003. I cannot stress enough that this is speculation, but look at the list and draw your own conclusions. If you have theories or your own list, feel free to submit it to us at-
editor at centralmainesportsblog.com or leave a comment below.
Arizona Diamondbacks
Matt Mantei
Luis Gonzalez
Shea Hillenbrand

Atlanta Braves
Javier Lopez
Gary Sheffield
Marcus Giles

Baltimore Orioles
David Segui
Jay Gibbons
Tony Batista
Jack Cust
Boston Red Sox
Jeremy Giambi
David Ortiz x
Manny Ramirez x
Nomar Garciaparra

Chicago Cubs
Sammy Sosa x
Kerry Wood
Mark Prior
Chicago White Sox
Jose Valentin
Esteban Loiaza
Magglio Ordonez

Cincinnati Reds
Jose Guillen
Ryan Freel
Russ Branyan
Austin Kearns

Cleveland Indians
Matt Lawton
Jody Gerut
Travis Hafner
Alex Escobar
David Riske
Colorado Rockies
Preston Wilson
Mark Bellhorn
Detroit Tigers
Alex Sanchez
Eric Munson

Florida Marlins
Mike Lowell
Ivan Rodriguez
Carl Pavano
Houston Astros
Morgan Ensberg
Richard Hidalgo
Octavio Dotel

Kansas City Royals
Angel Berroa
Mike Sweeney
Jason Grimsley
LA Angels of Anaheim
Jeff DaVanon
Troy Glaus
Scott Spiezio
Darin Erstad
Brendan Donnelly
LA Dodgers
Paul LoDuca
Adrian Beltre
Kevin Brown
Eric Gagne
Guillermo Mota
Milwaukee Brewers
Richie Sexson
Wes Helms
Scott Podsednik
Ben Sheets
Danny Kolb

Minnesota Twins
Jacque Jones
LaTroy Hawkins

New York Mets
Cliff Floyd

New York Yankees
Jason Giambi
Raul Mondesi
Andy Pettitte
Roger Clemens

Oakland Athletics
Eric Chavez
Erubiel Durazo
Miguel Tejada

Philadelphia Phillies
Bobby Abreu
David Bell
Pat Burrell
Pittsburgh Pirates
Randall Simon
Kip Wells
Mike Williams

San Diego Padres
Rondell White
Phil Nevin
Jaret Wright

San Francisco Giants
Barry Bonds x
Dustin Hermanson
Jason Schmidt
Benito Santiago
Edgardo Alfonzo

Seattle Mariners
Bret Boone
Mike Cameron
Ryan Franklin
Shigetosi Hasegawa
Rafael Soriano

St Louis Cardinals
Eli Marrero
Fernando Vina
Scott Rolen

Tampa Bay Rays
Aubrey Huff
Jesus Colome
Travis Harper
John Rocker

Texas Rangers (we already know about A-Rod x)
Juan Gonzalez
Rafael Palmeiro
Laynce Nix
Hank Blalock
Uggy Urbina (he later played for the Marlins, roid rage for sure though)
Toronto Blue Jays
Vernon Wells

Montreal Expos
Wil Cordero
Rocky Biddle
Joey Eischen
X denotes name has been mentioned in conjuntion with 2003 list.