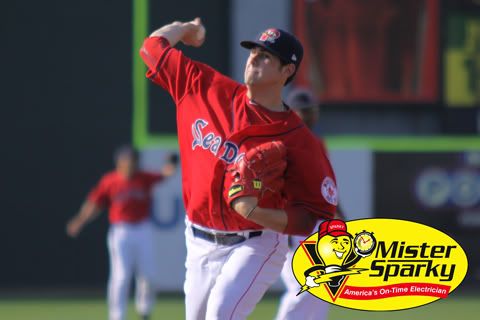 I was really lacking on the Links title this morning, my apologies in advance.
Red Sox
Jon Lester was, in a word, "Wicked" for the Sox last night. They beat the
hapless Orioles
8-2.
Josh Reddick was
called up
before the game and started in the outfield. Scott Atchison was sent down to make room.
Boof Bonser is still waiting for Teen Wolf to ask him out. No, wait, he's still waiting on the Red Sox to put
him back
on the big league roster.
Celtics
Game 2 is
tonight
. Hopefully someone hides the whistles.
Tom Thibodeau will be coaching
Da Bulls
next season.
Pau Gasol
felt wronged
by the media over comments made about Kevin Garnett.
Marquis Daniels
might
play in Game 2.
Bruins
Dennis Seidenberg got
one hell
of a contract to stay in Boston.
Patriots
Tom Brady is
saying little
about the contract situation.
Hadlock Headlines
It was a double-header day at Hadlock Field, how'd the Dogs do? Find out at
Hadlock Headlines
, and hear from Casey Kelly.
Pine Tree Pucks
The QMJHL Draft was yesterday, and the Maineiacs might have rebooted the franchise. Also, Kevin Dineen may have come in second to another AHL coach for the Columbus job. For all this and more, check out the newest addition to CMSB Media,
Pine Tree Pucks
High School
Track meets and more yesterday. Get all the stories at these fine sites.
Bangor Daily News
Lewiston Sun Journal
MBR.ORG
.