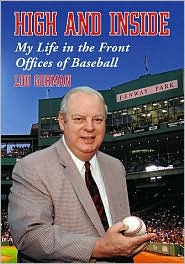 The Boston Red Sox mourn the loss of Executive Consultant and former General Manager James "Lou" Gorman, who passed away earlier this morning. Lou, who courageously battled against a variety of health issues in the last year, died of congestive heart failure at the age of 82. The team extends its deepest sympathies to Lou's beloved wife Mary Lou and extended family, as well as his legions of friends in baseball and beyond whose lives Lou touched.
"Lou Gorman was a legendary figure in the game of baseball," said Red Sox Principal Owner John W. Henry. "Over the course of a career that spanned five decades, Lou helped to build winning teams across the sport, including the 1986 American League Champion Red Sox. Lou also served his country with honor and distinction, spending more than eight years of active service in the United States Navy. Above all else, Lou Gorman was a profoundly decent man who always had a kind word and an optimist's perspective. His warm spirit and fundamental goodness will be greatly missed."
"Lou Gorman truly was a good man and a friend to all," Chairman Tom Werner said. "A proud son of Rhode Island, he returned to his native New England in the mid-1980s and chartered the Red Sox baseball operations department. Lou promptly led the club to the AL Pennant and the 1986 World Series. But for those who had the good fortune to meet him, Lou will be remembered as much for his disposition and character as his baseball acumen. The Boston Red Sox and the rest of baseball will not be the same without Lou, but we are all better for having known him."
"Lou Gorman was first and foremost a gentleman: kind, warm, decent, and positive. He treated everyone with dignity and saw each person he encountered as a potential friend," said President/CEO Larry Lucchino. "I will deeply miss sitting and watching Red Sox home games with Lou, learning from his wisdom and character. They just don't make them like Lou Gorman. That is not a cliché; it is a historical fact.
"Lou Gorman was a giant in our industry," said Executive Vice President/General Manager Theo Epstein. "During half a century in the game, Lou impacted and helped so many people in countless ways. We'll dearly miss this good, humble man who leaves an unmistakable legacy on the Red Sox and Major League Baseball."
In addition to his active role as Executive Consultant to the Club, Lou had been serving as Coordinator of the Red Sox Hall of Fame, one of several Halls of Fame to which he belonged. A graduate of LaSalle Academy in Providence and Stonehill College in North Easton, MA, Lou was an outstanding student/athlete who also earned a Master's Degree in Education at Bridgewater State. Before his time with the Red Sox, he helped construct winning teams with the Orioles, Royals and Mets, in addition to launching the expansion Seattle Mariners. Lou Gorman leaves behind his loved ones and a baseball industry full of dear friends.
---RED SOX---