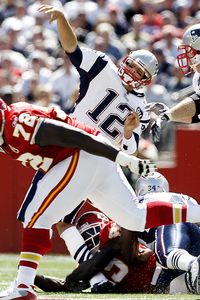 Well is there any other story,
really
, that matters to most of the NFL world today. Here is a round-up of stories regarding Tom Brady and his apparent
ACL
tear. Sirius NFL Radio reported and confirmed that Chris
Simms
and Tim
Rattay
are heading to
Foxboro
Monday.
Boston Globe Patriots Page
Boston Herald Patriots Page
ESPN Story
Yahoo Sports
Ron Borges of

WEEI

.com
Adam

Schefter

of The NFL Network
Well now to the game. The Matt
Cassell
era has begun in a
17 - 10 win over the Chiefs
.
Former BC Eagle Matt Ryan throws a 62
Yrd
TD pass on his 1st NFL attempt on the way to an Atlanta Falcons
stomping of the Detroit Lions 34 - 21
.
The Buffalo Bills special teams lead the way to a
34 - 10 win over the Seattle

Seahawks
.
Brett
Favre's
debut goes well in Miami, with a
20 - 14 win over the Dolphins
.
Reggie Bush and Drew
Brees
combined to lead the
New Orleans Saints over the Tampa Bay

Bucs

24 - 20
.
The Pittsburgh
Steelers
pound the Houston Texans 38 - 17
.
The Tennessee Titans beat the
Jacksonville Jags 17 - 10, but lose QB Vince Young
.
Baltimore Ravens rookie QB Joe
Flacco
leads his team
past the

Cincinnati

Bengals 17 - 10
.
Jake
Delhomme
connects with Dante Rosario in
te
last seconds of Sunday's game against the Chargers for a late win,
beating the Bolts 26 - 24
.
The Arizona Cardinals
beat the San Francisco 49

ers

23 - 13
.
The Dallas Cowboys
wallop
on the
Cleveland Browns 28 - 10
.
I saved a little sunshine for last....
The Chicago Bears christened Lucas Oil Stadium, beating the Indianapolis Colts 29 - 13.
As all of New England is distracted by Tom Brady's injury, the Boston Red Sox
beat the Texas Rangers 7 - 2
behind Paul Byrd and Big Papi. The win combined with
Tampa Bay Rays 1 - 0 loss
to the Blue Jays, leaves the Red Sox just 1 1/2 games out of 1st place.
The AL Central stayed the same Sunday as the
White Sox lost to the California Angels 3 - 2
and the
Minnesota Twins lost to the Detroit Tigers 7 - 5
.
The New York Mets and the Philadelphia Phillies
split a day night double header
keeping the Mets lead over the Phils at 2 games in the NL East.
The Chicago Cubs and Milwaukee Brewers both lost on Sunday, so the Cubs lead over the Brew Crew stays at 4 games. Chicago
loses to the Reds 4 - 3
and the
Brewers lose to the Padres, as Chris Young loses a perfect game bid in the 8th inning, 10 -1
.
The Loas Angeles Dodgers go 1 1 /2 games ahead of the Diamondbacks by
beating Arizona 5 - 3
.