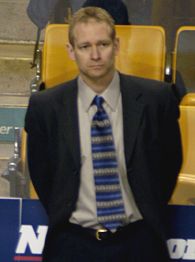 UMaine hockey coach Tim Whitehead appeared on the PM Jab with the CMSB's Chris Sedenka today to wrap up the season, and he made a very interesting comment about half way through it when Chris asked him about the scoring he had coming back next season, clearly talking about Gustav Nyquist, Tanner House, and Brian Flynn, the team's top three scorers....

Said Whitehead, "Yeah, almost 80% of our scoring came from our freshman and sophomores, that's a great sign for the future. On the defensive side, we lose two of our very best in (Matt) Duffy and (Simon Danis) Pepin. We got a great core coming back. We've got the two freshmen (Will)O'Neill and (Ryan) Hegarty, the sophomores (Mike)Banwell, (Josh)Van Dyk, and (Jeff)Dimmens, and a heckuva' freshman in Nick Pryor."

You can listen below to hear Whitehead sidestep the question about scoring he has coming back and focus on defense...