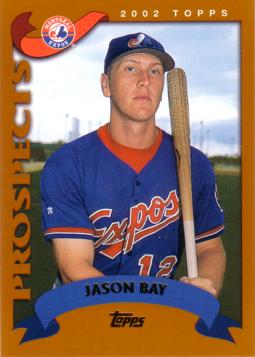 Outfielder Jason Bay has been selected to the 2009 American League Louisville Slugger Silver Slugger Team. The announcement was made tonight by Louisville Slugger.
The Silver Slugger Awards are presented annually to the top offensive players at each position in both the American and National Leagues by vote of managers and coaches.
Bay is receiving the honor for the first time after setting career highs with 36 home runs and 119 RBI in 151 games with the Red Sox in 2009. He hit at a .267 clip (142-for-531) while posting a .384 on-base percentage and slugging .537. Bay, 31, ranked among American League leaders in RBI (2nd), home runs (T-3rd), walks (T-3rd, 94), batting with runners in scoring position (5th, .360), runs (T-6th, 103), slugging percentage (10th) and extra-base hits (T-10th, 68). The AL's starting left fielder in the All-Star Game, he led all Major League outfielders this season in RBI and was the American League leader at the position in home runs and slugging.
Boston has been represented on the AL Silver Slugger Team in each of the last nine seasons beginning in 2001 and Red Sox players have won 32 Silver Sluggers since the award's inception in 1980.
2009 AMERICAN LEAGUE LOUISVILLE SLUGGER SILVER SLUGGER TEAM
1B—Mark Teixeira, New York (3rd Award)
2B—Aaron Hill, Toronto (1st Award)
3B—Evan Longoria, Tampa Bay (1st Award)
SS—Derek Jeter, New York (4th Award)
OF—Ichiro Suzuki, Seattle (3rd Award)
OF—Jason Bay, Boston (1st Award)
OF—Torii Hunter, Los Angeles (1st Award)
C—Joe Mauer, Minnesota (3rd Award)
DH—Adam Lind, Toronto (1st Award)
--- COURTESY RED SOX COMMUNICATIONS ---