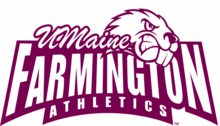 The University of Maine at Farmington softball team split with Lyndon State College in its North Atlantic Conference opener today at Marshwood High School with the Beavers winning the first game 9-5, but falling 13-12 in eight innings in game two. The Beavers (1-7, 1-1) are scheduled to face Johnson State College Sunday in NAC action at Marshwood. First pitch of the doubleheader is scheduled for 2 p.m.
Led by Amy Jones (Augusta, Maine) with three, Farmington slammed six home runs in the twinbill.
In the opener, Kaitlyn Bartlett (Chesterville, Maine) slugged a single, a double and a homer with three RBI as the Beavers notched their first win of the season.
Jones smacked two singles and a home run with two RBI, while Shannon Mitchell (Portsmouth, N.H.) singled and homered and Meaghan Donnell (Rochester, N.H.) clubbed an RBI double.
Natalia Shams singled twice for Lyndon with Kelly Butler chipping in a single and three RBI.
Emma Vaillancourt (Saco, Maine) tossed a complete game to get the win with five hits allowed, one walk and nine strikeouts.
Meghan Gadapee was hit with the loss with 13 hits allowed and a strikeout.
In the second game, Katelyn Willey capped a four-hit, four-RBI day with a single scoring Erica Parker in the bottom of the eighth inning to lift Lyndon to a wild 13-12 win over the Beavers.
The Beavers held three early leads, but Lyndon grabbed a 7-5 lead after three innings. UMF briefly regained the lead at 9-7, but the Hornets tied the game at 11-11 in the seventh to send the game to extra innings.
Mary Gagne rapped a pair of singles in the victory. Seven of Lyndon's starters drove in at least a run.
Jones crushed a pair of home runs and plated four runs with McKell Barnes (Durham, Maine) providing two singles, a homer and two RBI, Bartlett and Lily Barry (Hermon, Maine) two doubles apiece and Sam Morency (Lewiston, Maine) three singles.
Shams went the distance for Lyndon in the win with 13 hits, eight walks and two punchouts.
Bartlett, who started and re-entered, took the loss with three walks and two strikeouts in 3.1 innings.