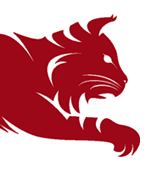 Trinity pitchers Kristen Anderson and Katherine Poulos combined to limit the Bates College softball team to one run on the day, as the Bantams swept a NESCAC East Division doubleheader at Lafayette Street Field. Trinity won Game 1 3-1, and took Game 2 by a 6-0 score to win two out of three games in the series.
Anderson (7-2) won a pitcher's duel in Game 1, limiting Bates to one run on five hits and one walk over seven innings, while Caroline Gattuso (2-3) scattered 10 Trinity hits in allowing three runs (two earned) over seven innings for the Bobcats.
Trinity scored a pair of runs in the third inning, beginning with back-to-back doubles by Caroline Blanchard and Karen Stoltenberg. After Abigail Ostrom singled, she stole second base. The throw from Bates catcher AnnaMarie Martino was off target, allowing Stoltenberg to come home from third for a 2-0 lead.
Bates got one run back in the bottom of the inning. Leah Maciejewski hit a leadoff double, moved to third on Alayna Garbarino's sacrifice bunt, and scored on a wild pitch by Anderson.
The Bantams got an insurance run in the seventh on first-year Christina Galese's towering home run, her second of the season, which landed just over the fence in left field.
Poulos (6-4), who accepted the loss in yesterday's 3-0 Bates win, this time shut out the Bobcats in Game 2, scattering seven hits and three walks while striking out three over seven innings. Kristen Finn, yesterday's winning pitcher, accepted the loss after allowing 11 hits and six runs (three earned) over six innings before giving way to Gattuso in the seventh.
Trinity got on the board in the first inning, starting with Kerry McCarthy's RBI single. Poulos helped her own cause with a two-run double for a 3-0 lead.
The Bantams struck again in the fourth, stringing together seven hits in a row, including a two-run double by Stoltenberg.
Poulos held Bates at bay the rest of the way. The Bobcats left two runners stranded in the seventh following hits by Karen Ullmann and Monica Berube.
Four Bantams had multiple hits in the second game, led by McCarthy's 3-for-4 outing. Stolgenberg and Poulos both went 2-for-4 with a pair of RBIs.
Bates (5-7, 1-5 NESCAC East) hosts Wesleyan in a non-divisional doubleheader on Sunday, April 17 starting at 11 a.m. Trinity (14-7, 4-2) plays a non-conference doubleheader at Western Connecticut State on Tuesday at 4 p.m.
Game 1 Box Score: Trinity 3, Bates 1
Game 2 Box Score: Trinity 6, Bates 0